Soft Phone Vs Desk Phone: Business Phone Services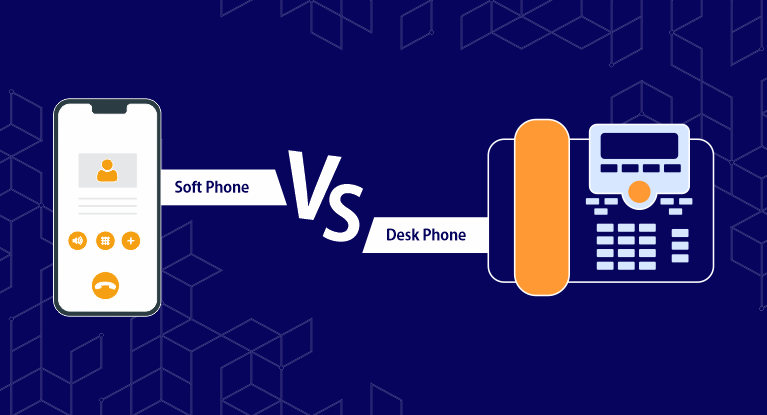 Reading Time: 3 minutes
The goal of our blog is about the VoIP-enabled devices, softphones, and desk phone used for office communications that function pretty similarly.
What is a VoIP?
A VoIP-capable desk phone enables users to send voice signals in digital packets over the internet utilizing Ethernet/Fiber optic cables as opposed to traditional phone lines. 
Voice over Internet Protocol (VoIP) technology is used by both devices to make internet calls. As already mentioned, the data is transmitted in the form of packets through fewer traffic routes and turns into an accessible data form at the receiver end.
Benefits of desk phone:
Quality comes first. It offers crystal-clear, uninterrupted call quality for your company as they employ fiber optic or Ethernet cables to access the internet. 
Usability: These phones are always available for users with no downtime. Employees don't need prior training to operate them as they function similarly to a standard landline.
Characteristics and Capabilities: They offer more robust call handling functionality. VoIP can transfer and hold conversations, switch between several lines, and access voicemail. 
Soft phones:
SoftPhones can turn into Laptops, smartphones, or any other online device with a speaker and a microphone. They can manage, make and receive calls. Although offering more capabilities, these services cost less than conventional landlines.
Any device with a speaker and microphone that can connect to a VoIP network can manage phone conversations online with the help of a softphone app. It is a software program installed on smartphones, tablets, and PCs.
Benefits of Soft phone Application:
A softphone is a flexible, adaptable, and portable Unified Communications solution. Installing is a simple, affordable, and convenient way to carry communication with you wherever you go.
Versatility:You can install a softphone application on any device you currently have. It would help if you used the appropriate software to use a softphone on your desktop, laptop, smartphone, or tablet to make calls to your clients or co-workers.
And also it is less expensive than installing desk phones in your office. It needs the software to function along with the in-built audio components. For that reason, you need a headset.
Many users still regard desk phones as the most accessible, dependable means to make and receive calls from a business standpoint. Even though they may not be as fresh and cutting-edge as the softphone, while your laptop is starting up. You can still make calls on a desk phone, and the total interaction will feel comfortable. 
It seems logical that the desk phone would remain a good option for businesses. A recent survey suggests that over 80% of all office workers globally are still desk-bound in most circumstances.
Soft Phone Vs Desk Phone:
Superior sound quality: Desk phones are renowned for their outstanding voice quality when compared to softphones. They have specialized hardware that guarantees premium quality calls. Utilizing a desk phone may sometimes be sufficient to provide you with higher-quality calls. Yet, call quality depends on factors such as your QoS settings and bandwidth.
Portability: It's important to note that purchasing a desk phone doesn't always need giving up portability as people find it simpler to roam around the office using cordless devices connected to the internet. But softphones are more portable as one can manage calls outside the office premises.
Efficiency and Dependability: Desk phones are often preferred by departments that only rely on phones. Such as tech support or customer service departments, as they give them access to all the tools they require to work well. Call management functions on a specialized hardware device are often much more straightforward.
Both your Softphones and your Desk phone need to be SIP (Sessions Initiation Protocol) to make a VoIP call. These phones will receive an IP address. As a result, you are allowing them to place and control calls via your network. On the other hand, softphones connect to the internet via Wi-Fi, resulting in slightly lower call quality compared to Desk phones.
Conclusion:
For the need to conclude, softphones depend on the device's functionality and state. The gadget must initially be booted up to use and will also be lost if your device is malfunctioning, infected with malware, or not switching on. 
Softphones offer a much more comprehensive range of functions for your business than desk phones. Special training is required for non-tech savvies to operate softphones. But desk phones are easy to use as they are similar to landlines.
For more information about communication systems, visit our VoIP Services. 
Published: September 16th, 2022