VoIP Transforms the Communication System – Here's Why?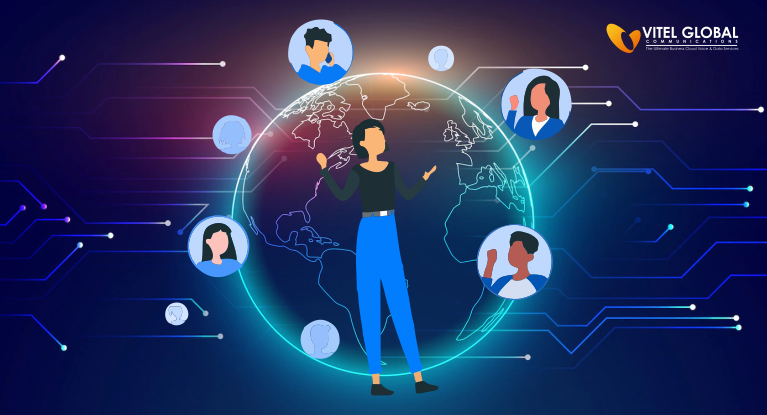 Reading Time: 4 minutes
Upgrade your business with the latest technologies like VoIP in communications, replacing the existing infrastructure to give tough competition, catch up and outpace, and achieve success in a short period.
"Research, implement, and achieve" followed by any business small to big regarding technology has become successful and established in the competitive world.
Let's not annoy our readers by continuing the details and moving straight into the crux of our blog, which plays a significant role, especially for small businesses.
VoIP, will that be technically effective?
Requirements
Advantages and disadvantages
Features 
In terms of VoIP service providers, we recommend
What is VoIP?
VoIP stands for Voice over Internet Protocol, which transmits voice compressed into the form of digital packets over the Internet. These digital packets get uncompressed into the voice when received at the other end.
Working:
We give a bullet-wise explanation for better and easier reading.
VoIP phones are also called IP phones or Cloud IP Phone Systems, which means the main backbone of this technology is the Internet.
Why is the Internet required? Compared to traditional phone systems, this system works over the Internet. To be precise, the calls get transmitted and received only through the internet cables and not the PSTN used by regular phones.
Packet-switching technology compresses the voice into small digital packets.
We uncompress it into sound once it reaches the defined destination.
The IP phone system plays a crucial role in handling call management and routing between the source and destination.
Driving factor:
In short, businesses should be cautious in selecting the cloud-based office phone system. We will have more insights later on.
Another critical term in this communication field is Cloud Pbx Services, a virtual private branch exchange, a cloud-based phone system managed over the cloud. There is no need to set hardware for this setup.
Depending upon the services chosen by the business, charges are incurred.
Devices and requirements:
The output devices used to manage VoIP calls are:
Existing landlines: connect with ATA. An analog telephone adapter is provided by the companies used for connecting the LAN and phone systems.
Internet phones are easy as no external device is required to connect to or use directly.
Install apps on your phones, login, and start making and receiving calls from anywhere.
Install the respective service provider app on your phone or desktop and sign in to your account.
Maintain Ethernet or WIFI with high speed. 
Benefits:
Small businesses are inclined more towards modern phone systems as they are highly benevolent.
It delivers high-definition voice quality.
No need for an on-premises setup to install.
No contracts are signed every month.
Updated instantly.
It is not complex to set up and manage.
Striking features help manage multiple teams and multiple branches wherever located.
You can use any VoIP-enabled device when you are not at your desk.
Substantial cost savings on infrastructure.
Substantial cost savings in the case of international calls.
No more wiring headaches running over your office floors.
Excellent customer service is delivered.
There is no need to be tech-savvy for installation and managing processes.
Add multiple lines quickly.
Perform multitasking through unified communications; work on multiple activities without disconnecting ongoing calls. You can quickly use VoIP fax on any conference call, share your files without disconnecting the calls, and do many more tasks.
Time-saving
Increases business productivity in a short period.
It increases the employees' efficiency.
It allows integration with the existing files in the system with VoIP.
Provides security.
It is easy to manage business expansions, as there is no need to add physical lines outside boundaries.
VoIP Service Features:
Following are the standard features that are shared with almost all VoIP systems are:
Ring groups
Auto Attendant
Call waiting
Call logs
Call reports
Remote access to voicemail
IP extensions from afar
Branch office assistance
Flash real-time operator panel
VoIP faxing
Call forwarding
Call records
Return call
Adaptability
DND
We automatically perform backups.
Billing
Access to the directory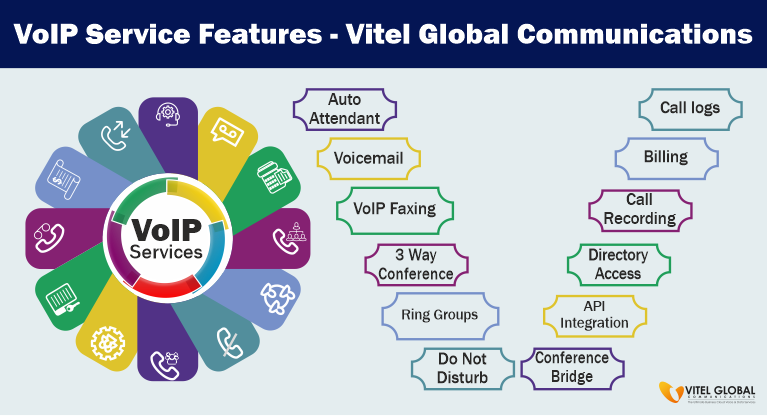 Procedure for installation:
Create a list of the services you'll need for business communications.
Select the appropriate service provider to meet your company's needs.
Examine the internet connections, Ethernet or WIFI, and ensure they are fast enough for business solutions.
Get a new number or request a porting process, which helps keep the same number.
Incorporate the customers into your modern phone system.
If possible, replace the user's traditional phone with an IP or virtual phone.
Connect your files or apps to the intelligent communications system.
It's done. Start, arrange, and talk.
A VoIP service provider is a company that provides VoIP-based services to customers. We usually operate this on a SaaS model, where we render software services to our clients, so no extra servers or phone lines are necessary for communication.
Types of service providers:
Only VoIP providers provide phones with basic features, excluding call management features, to businesses.
VoIP with the cloud: This service combines modern systems with Cloud PBX technology to provide advanced call management capabilities.
VoIP with UC: Unified communications are the next-level service mixed with intelligent communications. Collaborate and work with all the advanced features integrated with this product.
Check and compare the prices included in the plans.
Should be open to third-party integrations
Must be dependable
High-end security must be provided.
Maintain Backup.
Allowing Unlimited call management.
Rendering Mobile and desktop app solutions.
Round-the-clock customer service is available.
Will regularly update the recent updations.
Online dashboard administration
Call administration
Apart from this, you must focus on the customer reviews and experiences shared on the concerned websites.
Additional rough work to read:
Hence, managing a business whether small or large, requires dedicated hard work. Research is necessary and should also focus on every tiny detail, as thorough knowledge or awareness regarding your business requirements helps you to lead and figure out the right solution in a short period.
First and foremost, the point to focus on is to list the basic things needed for your business. For example, does your business need a local or toll-free number or a combination?
Does your business get and receive a lot of incoming or outgoing calls?
Are you thinking about expanding?
What are features more critical for your business solutions?
Edge-to-edge:
Decide on your business needs first and subscribe with Vitel Global Communications, as we avail the best and preeminent voice solutions and products:
VoIP and cloud PBX
SIP trunking
Unified communications
API integration
Maximize your business growth and productivity by using the top-rated business communication service provider in the industry. For more details, Request a FREE Live Demo.
Published: June 21st, 2022