7 Key UCaaS Trends to Watch Out For In 2023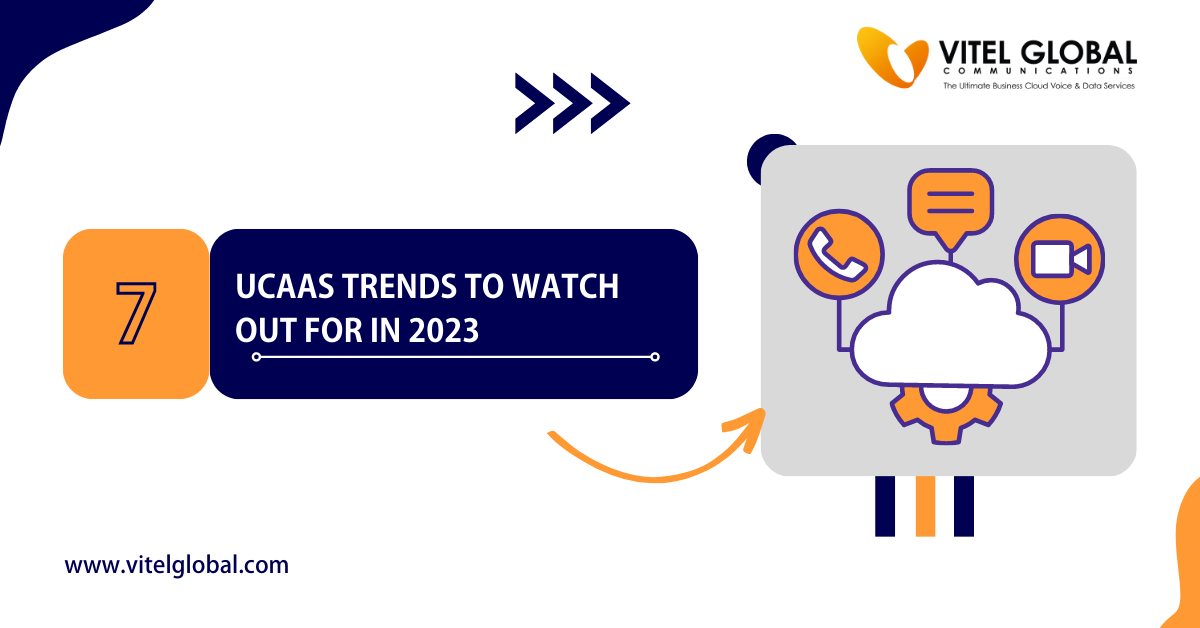 Reading Time:
4
minutes
Organizations across the globe are willing to shift their communications infrastructure towards Unified Communication as a Service. The tools and skills are continuously evolving.
It was confirmed that multiple countries implemented technology advancements such as AI and chatbots in their workplace strategies as these trends became more noticeable. Beyond expect an influx of more technology within your organization's communications platform.
1. Artificial Intelligence:
As companies increase their use of Artificial Intelligence in communications processes, they expect an increased demand for specialized staff to implement AI into workplace strategies.
Due to the amount of data generated by UCaaS platforms, the security of this data is a primary concern for all organizations. However, some companies have begun to implement artificial Intelligence, which can maintain data security.
However, because blockchain has yet to be verified as safe and secure, it does not guarantee that data will be kept secure for the platform's lifetime. They can be kept on edge as this evolves.
More businesses will choose security over quick and simple solutions. It may lead them to implement additional security measures such as encryption, two-factor authentication, and other services vendors provide today. It is also worth remembering that the transition from legacy infrastructure will take time.
AI this technology involves programming computers to solve specific problems automatically.
After implementing AI, businesses can expect their tech teams to spend less time monitoring computing platforms and more time working on more innovative projects.
2. It is more secure:
The providers will introduce identity verification and authentication and increase the focus on data encryption.
It offers collaboration, connectivity, and freedom to organizations of all sizes. The challenge is that it could be more complex and easier to manage. However, with the right mix of user experience design features. Its convenience features, modern security controls, and partner-supported business services. It is safe and secure.
The unified communications providers have expertise in securing through:
Securing the endpoints that employees and partners use.
Applying monitoring, reporting, and management of configurations to detect misuse.
Implementing specific kinds of network access control.
Using encryption technologies to protect data-at-rest, data-in-motion, and voice calls
Facilitating VPNs.
Here are three examples of how organizations make security possible:
 From requirement gathering through design development for a secure voice/video solution for its retail partners
 From required changes in the way, its participants communicated with one another in certain markets to a solution for capturing emails.
 From a secure virtual meeting solution for its partners and a secure remote access service for its employees.
3. Audio and Video Conferencing: 
More and more people use cloud-based unified communications for voice and video calls. UC offers integration with other tools. Moving away from using dedicated softphones such as cloud contact center solutions for these calls. The best enterprise phone systems make it easier for people to use their phone's natural language recognition to make audio and video calls.
Video conferencing: This is now more than just a novelty. The use of video in business communications has grown a lot. There will be significant innovation as companies converge on video-only Communication and voice and video combined with other applications such as augmented reality. Video conferencing is often available, with companies offering video on demand from the cloud and using it for live broadcasting, recording sessions, or integrating it into their telephony. Vitel Global and other companies are examples that offer this service.
Conference call automation: Companies will increasingly automate setting up a conference call – including selecting who is on the call, recording it, sharing it with others who need to be involved, or adding notes.
Performance: Video conferencing is becoming more reliable and better integrated into general communications software. Whether the company has a unified communications platform or uses other tools, such as collaboration and API communications, the companies can reduce the time spent on video conferencing regarding setup, running their tools, and managing equipment. It helps to focus on the core business working activities.
4. Collaborative Tools:
Many collaboration tools are being integrated. There was a huge improvement over the last few years. New offers that offer even better collaboration through peer review, shared project management across devices, instant feedback loops, and more are emerging.
This engagement may eventually lead to increased demand for unified communications as a service that allows companies to offload their collaboration needs from the premises.
5. Chatbots: 
In the next few years, chatbots will become more sophisticated and reliable. They will talk more humanly and be able to take on a conversational style to have a real dialogue with users – routing information requests to the right person in a company. For example, asking where you can find out about sales figures for last month might be answered by a chatbot, which also offers to add that information to your calendar.
6. Mobile Apps: 
The use of mobile apps for mobile video conferencing is growing quickly. The business phone solution offers an app allowing users to add others from the contact list to their current conference call.
It will cover a wider variety of verticals. The providers will offer services and compete for market share within specific industries such as health care, finance, and marketing.
7. UCaaS Provider Revenue Growth: 
The providers can leverage the move to the cloud to improve their operational models, focusing more on digital services and software delivery. They will also improve service levels and employee engagement and strive towards becoming more customer-centric.
Companies that invest in UCaaS have been seen to have better customer retention rates and use the data from those customers to create experiences that are more tailored to their needs.
Conclusion: 
Trends include voice transformation, e-strategy development, data security concerns, and cybersecurity. Service providers will compete for market share.
Using UCaaS will help increase business productivity and profitability among business operators. Cloud-based Unified communications will help reduce the total ownership cost.
The UCaaS market for B2B service providers is expected to reach by 2025.
It will also give rise to a growing market for enterprise mobility management. It helps automate security and compliance operations without requiring employees to have separate mobile devices. As this trend continues, the demand grows.
Published: March 27th, 2023
Subscribe to Our Latest Updates
Get monthly product and feature updates, the latest industry news, and more!
By submitting this form, you agree we may contact you in the manner described in our Privacy Policy.