How Business Phone System Enhancing Business Efficiency?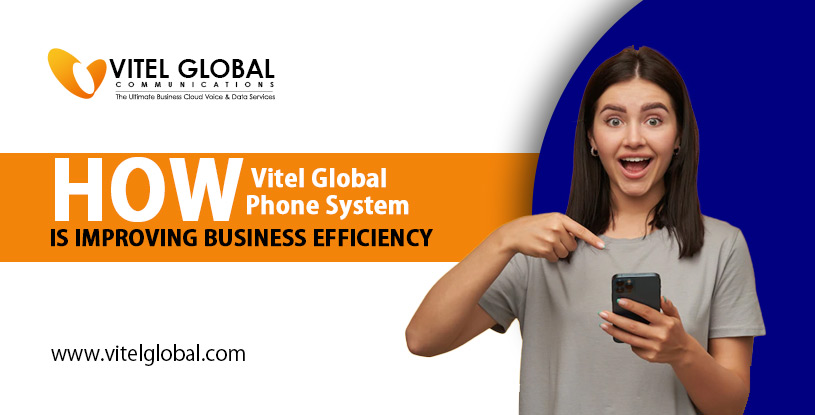 Reading Time: 2 minutes
Global Business Phone System:
When it comes to an effective communication system for any organisation. The Vitel Global business phone system is the best option. The Vitel Global phone system is well-known for its efficient data and voice services, which aid in improving communication between businesses and customers.
Unified Communication as a Service (UCaaS) and smooth video conferencing are two of the excellent services provided by the Vitel Global business phone system. All of these services contribute to a company's efficiency in a variety of ways, including increased productivity and customer service, improved communication between employees and customers, increased sales, and advanced features. Furthermore, having a modern phone system, such as Vitel Global, is highly recommended and required for businesses in order to provide efficient communication.
Here are some of the ways the Vitel Global phone system improves organisational efficiency.
Improved Business Phone System Between The Company And Its Customers
The Vitel Global business phone system is well-known for improving communication and thus improving the relationship between the company and its customers. This improves business efficiency by allowing the phone system to be connected to the same network as other businesses. This will, however, increase the effectiveness of a network and eliminate the need to use two separate data networks.
Vitel Global cloud phone system can provide a specific company with high-quality voice telephone, cabling, and software. All of which will help to ensure that the system is operating properly. As a result of all of this, there will be more room for productivity.
Enhancing Collaboration
One of the most important benefits of using the Vitel Global phone system is that it improves employee collaboration. Instead of each employee dialling into a different video conferencing system, they can all be connected to a single network. All workers or staff will be able to participate in audio and video conferencing in a single call session as a result of this. When connected to the internet, these calls can be made from any smartphone or PC.
Increased sales and improved customer service
Customer service, sales, and technical departments are all areas of a company that rely on an effective phone system. However, the Vitel Global phone system has ideal features that will meet the requirements of these departments.
To summarise
Using the Vitel Global phone system is one of the best decisions you can make. As previously stated, this phone system offers unrivalled services that will help improve the efficiency of your business, resulting in increased sales and productivity. The Vitel Global phone system is essential for increasing business efficiency. We incorporated a number of features for business purposes, like audio and video conferencing, group messaging, voice call recording, and much more.
With the best and most efficient phone service. You can boost the efficiency of your business communications and watch your company grow at a faster rate.
Vitel Global has developed cutting-edge digital solutions based on artificial intelligence technology.
Published: March 10th, 2022