Importance of Upgrading Your Office Phone Systems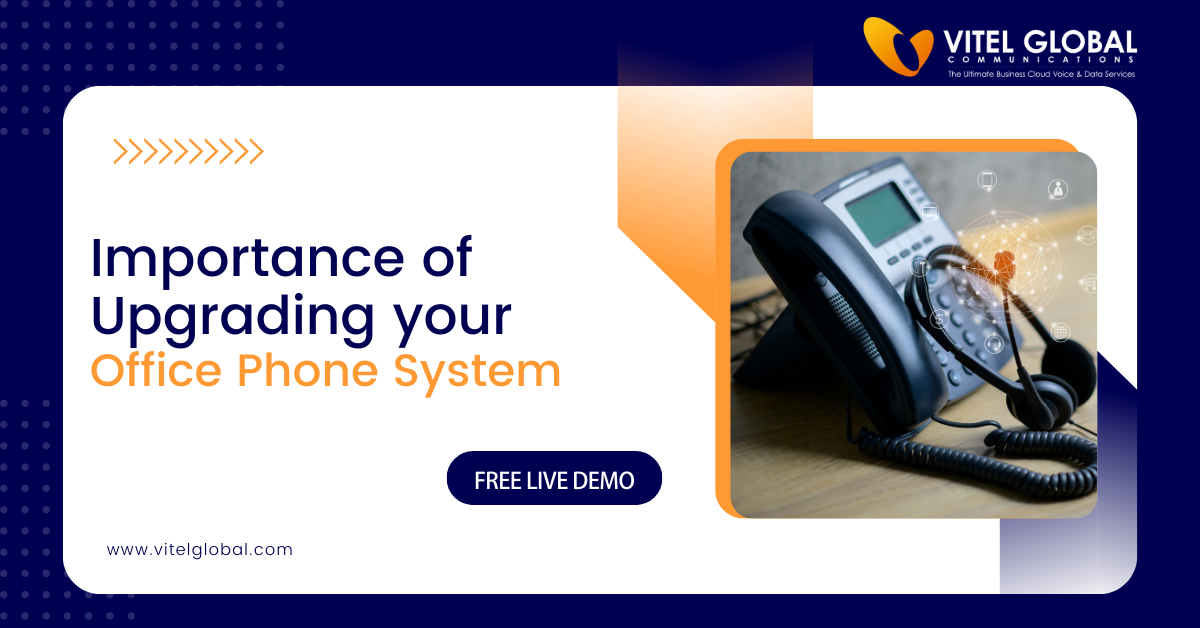 Reading Time:
4
minutes
Do you find yourself constantly having to look up the same number over or upgrading office phone systems and over when you're trying to reach your office?
If you've ever had this problem, you have surely realized how inefficient your phone system can be. There are simple ways to upgrade your Business phone system that doesn't cost much money but will make a difference for your organization. Here we discuss practical ways professionals can invest in their current Office Phone Systems or upgrade them quickly and easily.
Business Phone Solutions:
A business phone solution is a simple and affordable way for any sized organization to connect its locations, keep lines open for customers, and automate many manual tasks.
The average person spends the majority of their day working on the phone. Imagine how much time you could save with a virtual system or 800 number to handle incoming calls. For example, callers can reach your company easily by dialing just two digits. You can also enable automated call routing so callers can be quickly directed to the appropriate department based on their needs.
Do you want to create more opportunities for your customers? Do you want to expand your company's growth potential? Are you looking for more effective ways to improve workplace performance and success?
If so, it's time to upgrade your phone system.
Some Common Reasons Why Businesses Should Think about Upgrading their Phone System:
  Upgrading can save on monthly costs
  Upgrading can be done quickly and with little disruption
  Upgrading can offer better reliability and fast service delivery
  Increasing the efficiency of customer service teams by outsourcing some of the work to a third-party provider.
A modern organization is one of many critical aspects of success today. With it, a company can stay caught up with other competitors who manage to keep up with the pace of technology and innovation. Many marketing owners today hesitate to invest money into upgrading their IP phones for fear of losing out to competitors. However, looking at the long-term benefits of a good phone system, it is easy to see how much potential there is for your profession.
It's no secret that, as a small organization, you can only afford to be with your phone system. Often, employees and customers use office phones daily, which means they have to be reliable and functional at all times. Your employees and customers expect that your company is constantly updated through official announcements and marketing campaigns, so they know what's going on with the company.
Another reason why it's important to upgrade your phone system is that the technology has evolved over the last few years. If you're investing money into a new phone system, you'll want to ensure that you get one compatible with all of the new technologies and features your organization offers. In today's fast-paced world, your customers may seek a way to communicate with you. As such, your phone system needs to have all of the functions necessary for them to do so.
Many organizations keep the same phone system for years because they think purchasing another one is too costly. They need to realize that with the proper upgrades, some older systems can feel as modern as newer ones and save them money in the long run. Many organization owners also feel that since their current system is working efficiently, there's no need to upgrade it. Unfortunately, this mentality only leads to problems down the road.
Ways for Business Expansion by upgrading:
Think about the different ways you can generate revenue from your organization or expansion
 Service delivery.
 Customer service.
 Sales & marketing activities.
 VoIP or Internet Protocol.
Advanced systems like CRM and VoIP integration provide features like
Email
SMS
Call forwarding
auto-attendant
audio and cloud video conferencing solutions
Here are some more Benefits you can get from Upgrading:
There are so many benefits to upgrading your business phone system. Enhance your market with better voice quality and service delivery. Increase your revenue by contracting a cloud contact center to a third-party provider. Expand your market and get better results by outsourcing some work to a reliable business phone service provider.
You can upgrade your system by doing it yourself or through a third-party provider.
Enhance the quality of voice calls and cell and internet services with fewer costs and disruption.
Hire more people as part of your customer service team if you outsource some work to us.
Your phone system should be designed with up-to-date technology that delivers high-quality voice calls with quick, reliable performance.
Using Unified Communications for your Organization:
Cloud-based unified communications combine different kinds of communications into a single system. In other words, you can use a single unified communication system to integrate messaging, audio, video, and other forms of communication on one platform.
The most common form of unified communication today is Voice over Internet Protocol.
VoIP uses the internet just like your email or web browsing does. It means you can make and receive calls from any computer with an internet connection – no matter where it is.
It works great for you too! You can use VoIP at home and work using your laptop, smartphone, or tablet.
If you still use a phone, a fax machine, and email to communicate at work. Let's see the light about unified communications. With unified communications in place, your company can enjoy all the following:
Improved customer service
Reduced phone bills
Less spam mail from faxes
No more lost files due to emails going missing or getting caught in spam filters
When you use Unified Communications for your workplace, you'll feel secure knowing that data is protected.
Things Need to Check: 
 Upgrading involves making big changes to your phone system.
 You need office phone systems that are efficient and highly flexible.
 The quality of your phone service depends on the quality of the receivers.
 It's important to install a high-quality phone system that generates higher revenues through better voice quality and integration with internal systems.
Conclusion: 
Combining features like voicemail, conference calling, and faxing services, office phone systems become essential to any company's infrastructure.
Maximize your business growth and productivity by using the top-rated business communication service in the industry.
Published: March 24th, 2023
Subscribe to Our Latest Updates
Get monthly product and feature updates, the latest industry news, and more!
By submitting this form, you agree we may contact you in the manner described in our Privacy Policy.