Making Phone Calls Easier: Unified Communications Providers
Reading Time: 3 minutes
In this digital era, every company is now looking for ways to simplify its communication processes. The major aim of every organization is to smoothen the flow of operations and lead the management without any further misunderstandings with a unified communications provider. Proper business communication is required to make sure the internal management works productively.
Any company's two major and primary aims usually revolve around customer satisfaction and employee productivity. Enhanced communication can lead to the persuasion of employees' work and ideology. It will furthermore contribute to creating a healthy workspace for all the employees.
Attaining customer satisfaction or customer engagement is also another primary objective that can be achieved through business phone services. Companies can use these services to ensure proper communication with their existing customers and improve their customer retention techniques.
What Are Unified Communications?
UCaaS is similar to business phone services but has additional and extra features. These services are run through the internet and can be accessed through a mobile or desktop app. They add multiple features for communications like Cloud-based video conferencing, instant messaging, and screen sharing, which may not be available in the regular telephones used for residential purposes.
Unified communications can be used in multiple organizations irrespective of company size or industry profile. They add much value to the company by offering several features which can benefit the company instantly or in the long term. Henceforth, many companies find it worth investing in these services.
The Features of UCaaS:
UCaaS provides several features which will assist companies in multiple ways. These features are generally accessible and provided along with the subscription. These features are very user-friendly and hence, easy to use.
Video Conferencing:
In this digital era, Video conferences are the new way to connect with people. Cloud-based video conferencing makes it easy for employees to connect daily without any disturbances or extra expenses. This service is easy to access as it is just a click away. All you need is a webcam, microphone, and a good functioning desktop.
Using these services, employees can host meetings regularly. They can send and receive updates about the work regularly, which will lead to an increase in the productivity of employees.
Instant Messaging:
This feature enables employees to message themselves. Texting is also one of the strongest forms of verbal communication, which is very effective and efficient. Through UCaaS, people can text each other individually or through group messages. Such type of texting is possible even during calls.
This feature enables employees to share links and text-based information for better understanding during calls. It will furthermore help them interact in a better way which will improve their productivity.
Screen Sharing:
As we are all well aware, several meetings occur daily in an organization. There are several situations where the employees will have to participate in presentations. These meetings can be based on internal meetings or presentations with potential clients. Under such circumstances, employees can share their screens for effectiveness.
It facilitates all the employees to look at the same document while presenting which clarifies many participants' doubts and encourages a healthy meeting. It also reduces the scope for misunderstandings.
Long-Distance Calling:
Every company would like to expand its market size. To expand your services overseas, you do not need a particular office space set up in multiple locations. Through unified communications, you can connect with people from anywhere and anytime. It can assist your business in gaining an international presence.
Through this feature, many businesses can save much on renting a specific location to run operations for. These services can help in expanding the market size and in the process of customer acquisition.
Phone Directory:
Any company that deals with regular calling activities will receive a lot of inbound and outbound calls. It is useful to mark certain calls as favorites and save a few calls in the corporate phone directory for future reference and use.
In such cases, through the help of these services, companies can save contacts.
Saving the contacts will assist the companies in speed-dialing the contacts regularly. It will save much time for the employees, as they do not have to look for the contact number before dialing.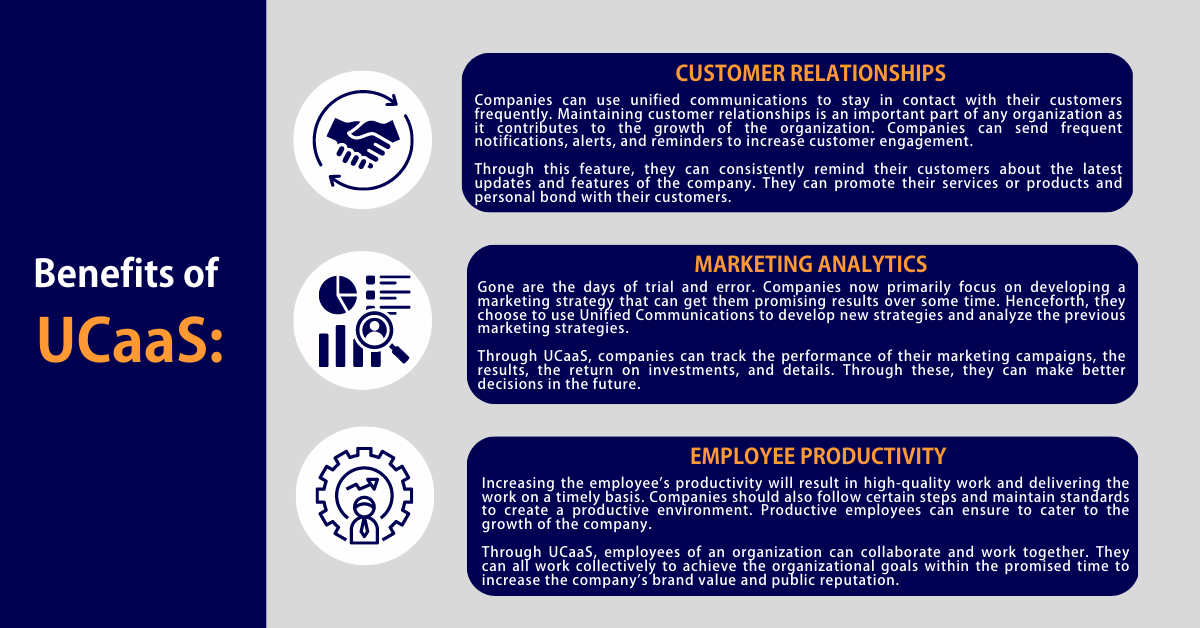 Conclusion:
Unified communications have made calling services much simpler. Since it revolutionized businesses, many companies have switched to these services. These services can assist businesses in increasing their sales, customer acquisition techniques, customer retention techniques, and public image. Henceforth, many small businesses also are starting to adapt to this new technological advancement.
Book a FREE Live demo to learn how to avail yourself of cloud-based unified communications.
Published: February 13th, 2023
Subscribe to Our Latest Updates
Get monthly product and feature updates, the latest industry news, and more!
By submitting this form, you agree we may contact you in the manner described in our Privacy Policy.