Top 10 Features & Best Practices of VoIP Phones
Before learning about the VoIP Phones features of the technology, we put forth a few basics.
What are VoIP Phones?
Voice over Internet Protocol or VoIP technology enables users to control their phone calls in real-time while connected to the internet. These cloud phones follow packet switching based on several standard internet protocols, whereas analog phones use circuit switching. VoIP IP phones are different from conventional landline (yet there is an option of converting landline to IP phone through ATA)
How does this technology operate?
These services allow users to make and receive calls over the internet and adhere to the internet's standards and protocols, collectively known as the packet switching technique. Using this method, the caller's voice is transformed into digital packets before transmission over the internet, and this occurs each time the dialer makes a call.
The compressed digital packets will choose the way that will bring them to their destination through the VoIP servers most quickly and with the least amount of other traffic.
Takeaway:
VoIP servers are used to link the calls to the various telephone networks.
When the digital packets reach their destination. They are converted back into voice signals at the receiving end. Which can occur on desktop or laptop computers or portable electronic devices such as cell phones. VoIP service provider plays a crucial role in delivering and controlling the entire procedure! including all the features of a conventional phone over an internet connection. It is more advanced than the public switched telephone network.
Point to remember:
Choose the best available service provider for your business by doing deep research or analysis over the browser. For example, reviews given by the customers, features, advantages, and significant cost details.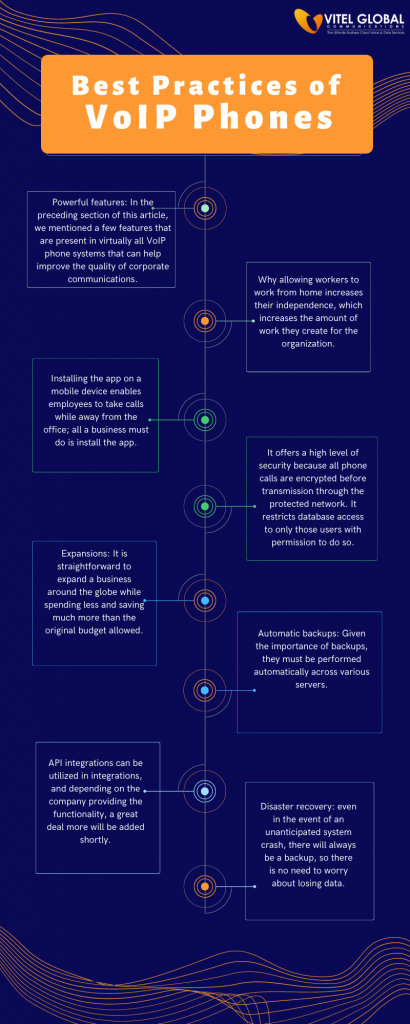 VoIP Phones Features:
Here is a brief overview of the standard features available on nearly all VoIP phone systems:
HD call quality: High-definition calls are accessible, and the caller's voice is audible in crystal-clear detail.
Call Reports: Call reports are automatically generated and updated.
Call Dialing: It is simple to make VoIP calls from any location using over 200 country codes.
Call Monitor: The call monitor is responsible for keeping track of every incoming, outgoing, and missed VoIP phone call made or received.
Call Queue: There will be no disconnections between calls when another call is in progress.
Conference Call: The three-way calling capability simplifies the management of conference calls.
Call Waiting: If a caller is waiting while you are on another call. You can use the call waiting for the feature to learn more about them.
Voice to Email: voice calls are forwarded to the user's mailbox.
Mobile App: If you own an Android or iOS smartphone, download the app from the appropriate app store to start.
Call Forwarding: allows one to divert incoming calls to a different number when away from the workplace.
Call Rejection: This feature rejects calls from unknown numbers.
All user data is uploaded to the cloud, where it may be managed and seen via an online dashboard.
Get associated with us, Click here to get free live demo.
Please follow and like us: